What Should a Mom Do When She Feels Jealous of Her Nanny?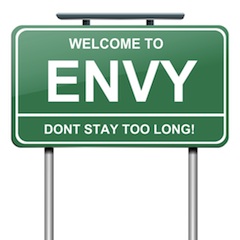 Placing your children in the care of a nanny comes with a common, but largely unexpected side effect: nanny envy. Knowing that your childcare provider is spending the majority of your children's waking hours with them and providing them with the support and encouragement that they need to meet major milestones and deal with the daily challenges of growing up can leave moms feeling a tremendous amount of jealousy. This jealousy can cause serious tension in your relationship with the person who cares for your children while you're working outside of the home, and is almost always difficult to deal with.
Dealing with the Main Cause of Jealousy – Guilt
Fear that your children will come to love their nanny more than they love you is a major contributor to feelings of jealousy and bitterness towards your nanny. However, this feeling is almost always another by-product of the guilt that many women feel when they leave the house each day to earn a living while her children are growing up.  The first step to squashing envious urges is to realize that your children know who their mother is and are not going to love the nanny more; furthermore, you do not have to feel guilty about leaving your children in the care of an experienced, loving nanny while you're pursuing your career.
Realize That You Can Have a Strong Relationship with Your Children While Working
Feelings of guilt and jealousy towards your nanny are likely to diminish as your children get older and start spending the bulk of their day in school; until then, however, you will have to learn how to deal with your feelings and make a concerted effort to establish your own relationship with your children. Making a point to be present for special events, to set aside dedicated chunks of time solely to spend with your kids and to create memorable moments on a daily basis can go a long way towards alleviating your guilt and the resultant jealousy. Even if you're only able to establish a bedtime ritual, concentrate your energy on creating a routine that your children share only with you and your partner. Take a weekend trip to the zoo or make a weekly pilgrimage to the park when weather allows. Find something that works for your family, and make those moments your own.
Nannies that live-in should be provided with a private space that's off-limits to kids during her off hours. While she's basking in her hard-earned peace and quiet, utilize that alone time for family time. Whether you're staging a family game night or simply curling up together to watch a movie, make sure your nanny knows you're spending time together as a family; an experienced and professional nanny will understand completely that she's not being maliciously excluded.
Admit to Your Jealousy
Acknowledging that you feel envious of the time that your nanny gets to spend with your children is one of the most important aspects of managing those feelings; refusing to admit that you're jealous of her will almost always cause you to treat her with hostility that she hasn't earned, which can create such a toxic environment that she'd rather find another post than deal with it. It's also important to note that, while it may be painful, the fact that your children love their nanny is actually a mark of your good parenting skills; they're in the care of someone that they trust and feel genuine affection for, rather than suffering under the tyrannical rule of an overly-authoritarian caregiver. Being jealous of how wonderful your nanny is with your kids is a natural part of being a working mother, but it's also a sign that you've chosen someone who will treat them with the love and respect that they deserve. 
Understand That These Feelings Are Temporary
Though nanny envy and mommy guilt can feel like permanent twin millstones around your neck, it's important to realize that these feelings are temporary, and will fade with time. You will create a routine that works for your family and learn how to juggle the demands of motherhood and a successful career. Until you've found your balance, it's best to be gentle but honest with your nanny about the way that you feel. The vast majority of nannies, especially those with extensive experience, will have some insight into managing these feelings, and may even be able to help you create that routine you're looking for.