Is a Live-In Nanny the Right Choice for Your Family?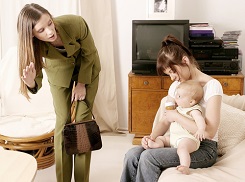 Now that you've decided to hire a nanny, you have to decide if a live-in or a live-out nanny is the best choice for your family. If you're considering a live-in, here are some questions to ask yourself to determine if you should go that route.
Do you have room in your home? At the very least, a live-in nanny requires a private bedroom and bathroom. For some families, this basic requirement is hard to meet because they live in an area where space is at a premium. While the nanny's room can be located with the family's bedrooms, it's best if it's located in a separate part of the house, such as off the kitchen or in the basement. This gives the nanny more privacy during her off time and protects the family's private time too. It can be uncomfortable when the nanny's bedroom is located right next to or right down the hall from the parents' room. For most families, that's just a little too close for comfort.
Do you need to expand your candidate pool? If you live in an area that doesn't have a lot of live-out nannies, you may not be able to find the type of caregiver that you truly want. Hiring a live-in nanny may be the best way to locate a wide variety of qualified applicants interested in your position. By expanding your search area, you'll be able connect with caregivers that mesh well with your family's needs.
Are you willing to share your home with your caregiver? Every family has a different privacy threshold. Some families enjoy having their nanny live with them, while other families want their nanny to leave at the end of each day. Think carefully about how a nanny will impact your private family time, how comfortable you will be sharing your space with another adult that's not your spouse or partner, and if what you're gaining will be worth what you're giving up. Although your nanny will be in her nanny quarters most of the time when she's home, you'll still be sharing your kitchen and other common areas with her on a regular basis.
Do you need early morning, late night or overnight coverage often? If you do, having a live-in nanny might be the best way to find someone to cover those difficult shifts on a regular basis. Live-in nannies tend to have fewer outside responsibilities like caring for their own children or maintaining their own homes, so they're more able to take on non-traditional schedules. Also, because they're living steps away from their work place, there's virtually no commute and they can enjoy their own space while the kids are sleeping. These are two very attractive features that make working those shifts much easier.
Does your state require that live-ins get paid overtime? If you need your caregiver to work an extended schedule, you can save money by hiring a live-in nanny. All live-out nannies must be paid overtime, one and a half times their regular rate, for all hours worked over 40. That can get expensive very quickly. In most states, live-in nannies can be paid their regular hourly wage for hours over 40. Of course, you still want to pay your live-in nanny fairly for the hours she works, but not having to pay overtime for regularly scheduled hours can save quite a bit of money.
Are you good at setting and keeping boundaries with your nanny? When your nanny lives with you, strong and consistent boundaries are a must if you want to have a long and successful employment relationship. This means that you need to respect your nanny's off time, her private space and her life outside of work. Asking her to watch the kids on Saturday morning while you go for a quick run or to listen for the kids after they're in bed while you run a quick errand are requests that are out of bounds. Many parents say abiding by those boundaries won't be a problem. However, when you have a trusted caregiver just hanging out in your home while you're trying to juggle home, work, kids and all the other things you have going on, the temptation to overstep appropriate boundaries is strong. Think carefully about how you'll handle these challenges with a live-in nanny.
Hiring a live-in nanny is a big step. Take the time to consider the pros and cons of having your caregiver live with you before you make a final hiring decision. If you're the right kind of family, it can be a great fit.