How to Select a Pediatrician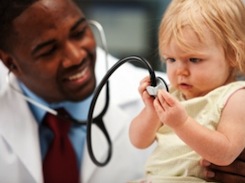 There is much to consider when you start the search for your child's pediatrician, and, if possible, you should start your search before you give birth.  Some pediatricians don't have privileges at all hospitals, so if you'd like your baby seen shortly after birth in the hospital, you'll want to be sure to choose one that has privileges at the hospital where you'll be delivering him.  Oftentimes your obstetrician can refer you to a pediatrician that she works with.
Depending on where you live there could be hundreds of doctors from which to choose.  To begin your search, start by researching which pediatricians accept your health insurance, as this could greatly narrow down the doctors you have to pick from.  Next, decide where you would like the office to be.  Keep in mind that it might be more convenient to have the pediatrician's office near your home.  If your child has special needs, then it may be more important for you to find a pediatrician with experience treating children with similar needs as your own child.
Ask your friends who they would recommend.  Most moms and dads will be more than happy to recommend their pediatrician.  Listen to their reasons for recommending a particular pediatrician.  Maybe the office is close to home or there is a 24/7 nurses line.  Perhaps it's because the staff is so friendly.  It might even be that the doctor is great with their kids.  Be sure to ask your friends how the doctor feels about questions.  Some offices are so busy that the doctor is scheduled in a different room every 15 minutes and he will get frustrated with answering a bunch of questions.  Find out how well the he explains a diagnosis.  Does he use a bunch of medical jargon or does he explain things in layman's terms?  You may not want to choose a doctor where you will be rushed in and out of an office and be afraid to ask questions.
Once you have narrowed your search down to fewer than 5 start making appointments to meet and talk with these doctors.  Most offices should allow you to interview the doctor for 15 minutes or so for free.  If you find an office not willing to let you interview the doctor for free then you may want to move on.  You may also find that some doctors aren't accepting new patients.
Here are some questions to ask the doctor during the interview:
Where did you earn your degree and where did you do your residency?
At which hospitals do you have privileges?
What is your policy about taking and returning phone calls?
Should my child ever get seriously ill and need to be referred to multiple specialists will you coordinate his care among all of the doctors caring for him?
Is this a group practice where my child can see any doctor in the office?
How long is your average appointment?
How many patients would you typically see in an average day?
How long have you been at this practice?
How do you feel about holistic medicine? (Only ask this if you are interested in this type of treatment.)
Is there a nurse's line to get medical advice?
Can I talk to you about more than one issue during the same appointment?
While you are asking your questions assess how comfortable the doctor seems answering them.  Does it seem like he keeps checking his watch and is eager to leave?  If you bring your kids with you does he seem friendly to them and does he engage them in conversation?
You may also want to speak to the office manager.
Ask her how insurance claims are handled.
Find out who answers the phone when the office is closed.
Do they have night and weekend hours?
Are there separate waiting areas for the sick children and the children coming in for well visits?
Will you have to pay for an office visit if you are just bringing your children in for immunizations?
How quickly can your child be seen if she is ill?
Make sure to thank everyone for their time.  Get a feel for the office flow and how everyone gets along.  Many of these things could be important to your final decision.
After interviewing the doctors, carefully consider your choice.  You may have just "clicked" with one doctor and know which one that you want right away.  If not, consider all the information you've gathered to make an informed and educated selection.