60 Blogs with Recipes for Quick Weeknight Dinners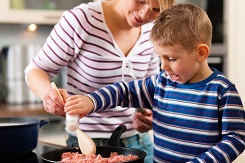 It doesn't matter if you're a working mom or a stay-at-home one, getting dinner on the table every night can be a challenge. Most moms can agree that when it comes to dinner, getting a meal on the table quickly is essential. Preparing dinner in the midst of a hectic schedule without resorting to takeout or frozen meals, however, can sometimes prove to be tricky. One way to save your sanity is to plan out your meals for the week ahead of time and go on one big shopping trip so you have all the ingredients you need on hand.  You can also prep any vegetables and brown any meats you'll need on the weekend, slashing some of the time spent cooking during the week. These 60 blogs are stocked with quick and easy recipes you can make during even the most jam-packed of weeks.
Vegetarian
People that follow a more restricted diet can sometimes find themselves in a cooking rut after a while, resorting to the same meals over and over again. These 10 blogs, however, are packed with vegetarian meals that are perfect for the health conscious diner, and all can be fixed in 30 minutes or less.
Gluten-Free
Making the switch to a gluten-free diet can be daunting at first; however, with a little help you can easily transition your meals. One easy way to find fast and filling gluten-free options is to use the recipes outlined in the following 10 blog entries. When it comes to gluten-free fare, they've got you covered.
Soups
There's nothing more comforting than a rich and hearty bowl of soup, especially when the weather starts to turn cold. While some soups require simmering all day, these quick weeknight recipes will come together in no time. Try adding one or more of these soups to your weeknight rotation to shake things up a bit.
Pasta Dishes
Pasta dishes are often considered hearty dishes, and sometimes that's exactly the type of meal you want. Not all pasta dishes have to be heavy, though. By combining a cold pasta salad with fresh veggies you can create a meal that is both tasty and light. Check out the dishes featured in these 10 blog entries for more quick and easy pasta dishes.
Chicken Dishes
Chicken is one of the most versatile proteins, and you can eat it hot or cold. It works well in almost any dish, too, from salads to pastas and even pizzas. These 10 bloggers have used chicken in Mexican food, Indian food, Thai and many others, ensuring that you'll make a chicken dish you enjoy no matter what you're craving.
Dinners on the Grill
Thanks to grill pans you are no longer limited to grilling food just when the weather is nice. Grilling enhances the flavors of foods, adding a flavorful twist to your meals, and using a marinade on your meat will help tenderize the meat as well as add flavor.  The next time you are in the mood to grill, keep these 10 blogs in mind.