5 Tips for Celebrating the Holidays With Your Live-in Nanny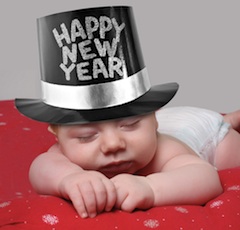 Your relationship with your live-in nanny is different than any other kind of employment relationship. The nanny works for you but she also lives with you and is part of your household and to some extent, your family. Some employers and live-in nannies are very close and consider each other family. Others have a more professional relationship but still have a unique sense of closeness. During the holidays, especially if the nanny isn't from the local area, this unique relationship takes on special meaning. Here are some ways to celebrate the holidays with your live-in nanny.
Respect and embrace your nanny's beliefs, even if they're different than your own. Often a family and a nanny celebrate the same holidays but sometimes they celebrate different holidays. If your nanny practices a different religion or has different beliefs, make sure you let her know that you respect her beliefs and that she's welcome to celebrate in whatever way she wants to. Having a nanny with a different background or belief system is a great opportunity for your family to learn about different cultures, traditions and ways of celebrating. Children especially love hearing the stories of other traditions and experiencing how children from other backgrounds celebrate the holidays.
Invite her to join in on family dinners. If your nanny's family doesn't live in the local area and she's not planning to travel to see them for the holidays, chances are she doesn't have plans for the holiday meal. Extending an invitation to join you and your extended family even if you're going out to a restaurant or to a relative's home will mean a lot to her. It shows that you care about her as a person, not just as an employee. Invite her to prepare one of her favorite dishes from home. Your family will get to try out something new and she will get a little taste of home during the holidays.
Encourage her to share one of her family's traditions with your family. Everyone has family traditions that hold special meaning to them. Maybe it's baking Grandma's special cookies for the local police and firemen. Maybe it's gathering up friends and family to carol throughout the neighborhood. Maybe it's making popcorn strings for the tree while you watch It's a Wonderful Life together. Ask your nanny what her family traditions are and encourage her to share one or two with your family. She'll get to experience a little piece of home at a special time of year and you'll get to share in the joy and excitement of learning about a tradition that's important to her. You might even find that it becomes a special tradition between your nanny and your family long after she's left your job.
Help her decorate her space. Even the smallest of spaces has room for a Christmas tree, a menorah or other holiday decoration. Encourage your kids to make something special for your nanny's space and let her know that she's welcome to bring in decorations or items that represent her beliefs and traditions. It can be difficult being a live-in nanny. Being able to make your space feel like your own, especially during the holidays, is an important part of being happy with the living arrangement in the long term.
Make sure that she's participating as a guest, not your nanny, during her off time. The boundaries between the personal and the professional are always hard to keep when you employ a live-in nanny. However when she's spending time with you during her official off time, it can get even harder. Make it clear to the nanny that when she's with you and your family during the holidays, she's not working. Chances are she'll pitch in and help out anyway. However you should view it the same way you'd view any other guest who's helping out; with much appreciation!. Don't expect her to watch over or discipline your children, don't ask her to take care of the last minute details and don't leave her to clean up after the gang.
Having a live-in a nanny means having a unique relationship with your nanny. Sharing the holiday season with her can strengthen your relationship and help each of you get to know the other better. You can also help her feel welcomed during a time when she's away from family and friends. It's also a great opportunity for your children to share in the traditions of your nanny and experience the holidays in a new and exciting way.