5 DIY Last Minute Halloween Costumes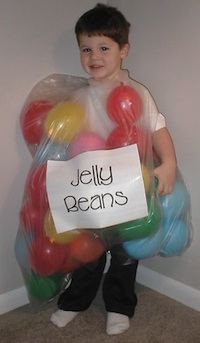 You're down to the wire and you can't find a costume, so what do you do?  You could send the kids in last year's costume if it still fits, but that's probably not going to be much fun for them.  Or you could have them put a sheet over their head and go as a ghost, but that's been done a thousand times.  Don't despair; instead check out these last minute costumes you can throw together at home.
Bag of Jelly Beans- Wear white tights and a leotard or body suit.  Blow up a bunch of water balloons in various colors.  Attach the balloons to the body suit using tape or safety pins.  Take a clear trash bag if you can find one or create your own "bag" out of a roll of cellophane.  Cut holes for your legs in the trash bag and step into it.  Fill up the "bag" with more balloons.  Create arm holes where necessary in the bag and put your arms through.  Gather up the top of the bag and tie some ribbon around the bag at your neck.  You can also tie this under the arms if you have a small child who's uncomfortable with it at the neck.  Create a sign that says, "Jelly Beans" and tape it to the front of the "bag".
Bat- You will need an umbrella, black felt, a needle and some thread for this costume.  Dress in dark pants and a dark hooded sweatshirt.  Remove the handle from a small umbrella and then cut the umbrella in half.  These are your two wings.  Sew the cut edge of each half of the umbrella to the back of the arms of the sweatshirt.  Cut out tall pointy ears from the black felt and sew them to the hood of the sweatshirt.  If you have some black face paint you can paint the face with it.
Gypsy- She will need to wear a long brightly colored skirt, a shirt that goes down over her hips and bright socks.  She can wear whatever shoes that she is comfortable in.  Now it's time to accessorize.  Take a scarf and wrap it around her head and tie it in a knot or bow depending on the length of the scarf.  Take another scarf and tie it around her hips.  If you don't have another scarf just use a piece of scrap fabric.  Drape a shawl around her shoulders.  Put on a bunch of costume jewelry.  Hoop earrings really sell this look and can be found in clip-ons or at a craft store.  Apply some heavy make-up.  She can carry a tambourine, a crystal ball or some cards with her.
Lego Brick- Have your little one dress all in a solid color of blue, red, yellow or green.  Find a box and seal it with hot glue.  Cut arm holes toward the top of each side.  Cut out the bottom completely.  Cut a hole in the top for his head.  Spray paint the box the color of the rest of the outfit.  If he is wearing blue sweatpants and a blue sweatshirt then paint the box blue.  Hot glue on some blue plastic cups to make the Lego bumps.  Find a small box that will fit on his head and cut out a hole for his head.  If he wants he can wear a ball cap under the box to make sure it doesn't slide off his head.  Paint this box the same color as the rest of his outfit and hot glue one cup right on the top of the box.  If the weather is cool you can add matching gloves to the costume.
Mummy- Wear white from head to toe, and make sure that the shirt is a long-sleeved one.  Paint the face white with some dark shadows under the eyes.  Wrap the head with gauze.  Take some white crepe paper streamers and wrap them around the body.  Make sure to wrap the upper body separate from the lower body so that your child can still go to the bathroom if need be.  Wrap around the feet to cover the shoes.  If the shoes are white it's not a big deal to get them all covered.  If the shoes are not white you can also put long white socks over the shoes and up the legs before wrapping the lower half of the body.  Use clear packing tape to hold the crepe paper on.  Don't wrap it so tight that your mummy can't move without tearing his costume.  Also, it's okay if some of it tears because often mummies aren't wrapped perfectly when they climb out of the dirt.  You might want to send along some tape just in case too much starts to fall off and you need to make a quick repair.
Costumes are supposed to be fun, so look around your house and try to come up with your own ideas.  For instance, if your child loves purple and happens to own purple tights and a leotard you can add purple balloons and create a bunch of grapes.  Add a stem to a hat and voila you are done.  Don't worry too much, just have fun with it.  Happy haunting!