30 Blogs with Tips for Planning Holiday Luncheons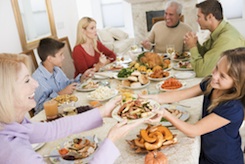 Holiday luncheons are almost as much of a staple during the holiday season as holiday parties are, with the main difference being that you're usually dealing with bigger crowds and guests who are brought together because of similar interests or involvements.  A volunteer luncheon, work luncheon, or church luncheon are just a few of the possibilities.  Check out these 30 blog posts to get some ideas for planning your next holiday luncheon.
Invitations
Choosing the invitations gives you a vehicle to let everyone know the theme of the luncheon.  The invitation can be done online through e-vites or with more formal paper invitations, and how you handle the invitations will set the tone for the party to an extent.  Check out these five blog entries to get more ideas on invitations.
Theme
Choosing a theme for the party is one of the most fun parts of planning, whether you want to host a formal luncheon, like "White Christmas", or a more informal affair, like a "Rudolph Party" where everyone is given a red nose.  If you need a little help, look no further than these five blogs.
Venue
Depending on how many people you'll have attending your luncheon, finding a place to have the luncheon could become a large task.  As soon as you have your estimated total of guests in hand, start trying to find a venue.  Here are five bloggers who can give you more tips.
Menu
Determining a menu can be a tricky bit of business, especially if you are using a caterer and have to adhere to a strict budget, or if you have certain dietary restrictions to take into consideration.  For some advice on planning the perfect menu, review these five blog posts.
Decorations
Decorating for a holiday luncheon doesn't have to be over the top or difficult, and can be as simple as making sure each table has table linens and centerpieces.  Your theme will dictate what other decorations you want to incorporate, but if you are at an outside venue you'll want to make sure that what you do is okay with the business.  These bloggers can give some helpful hints about decorating for a party.
General Checklists
When planning a party for a big group, sometimes it's nice to have a checklist so you can divide and conquer.  Be sure to delegate different aspects of the party to others so that you don't feel overwhelmed.  Here are five blog checklists to help you stay organized.