100 Inexpensive Gifts You Can Make for Kids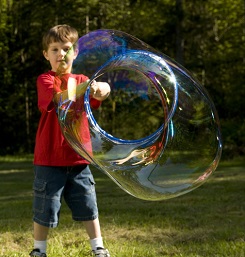 From birthdays to holidays to times where you just want to tell a child you love or appreciate them, there are many occasions where you may find yourself in need of the perfect gift. We've compiled a list of 100 inexpensive gift ideas you can make for kids, whether you are a parent, teacher, a daycare worker or a nanny.
Scrapbooks
Scrapbooks are a great way to gather up photos and souvenirs you have accumulated over the months and years. Check out these 10 gift ideas for different ways to make a scrapbook for the child in your life.
3D Photo Projects
If you are a more adventurous crafter, you may want to try out a 3D project. We found 10 creative photo project ideas that will make the perfect gift.  
Toys
Every child loves to play with toys, but that doesn't mean you have to rush out to the nearest toy store to purchase them. Instead, read through these 10 articles for ways to make homemade toys.
Keepsakes
If you're making a gift for a child you don't see often or are moving away, you may want to give them a sentimental keepsake. These 10 posts have gifts that will make a lasting impression that the child in your life can treasure forever.
Clothes
Whether you need to assemble a costume or have a little trendsetter who loves to wear unique pieces, homemade clothes can be easily assembled. These 10 projects are easy to make and fun to wear.
Jewelry
Friendship bracelets, fun necklaces and even homemade earrings can be easily assembled and are a gift that will be treasured. You'll find 10 different ideas in the following blog posts.
Dress Up Costumes
Part of growing up is trying on new personalities and identities to see which one fits, and playing dress-up helps kids imagine themselves in a different role. In the following posts you'll find 10 costume ideas that will spark your child's imagination.
Dolls
For dolls that cater to both boys and girls, you need look no further than these 10 blogs. Your child will adore the different dolls and puppets you create.
Craft Kits
Crafts allow kids to be creative and a craft kit can help a child express himself artistically on a moment's notice. For help putting together a craft kit, look no further than these 10 articles.
Treats
No one is going to turn down homemade treats, and you'll find some delicious options in these 10 articles. What are you waiting for? Start cooking!