100 Books All Kids Should Read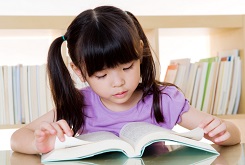 According to Reading is Fundamental, a non-profit organization designed to help promote literacy, children develop both their language and listening skills from hearing words, which is a compelling reason for parents to read to their children and encourage them to read on their own. Since there are millions of books out there to choose from, we've selected 100 of the best that all kids should read. Pick up a few and start reading with your child today!
Board Books
Board books are the perfect way for young children to begin associating pictures with certain words. Read these 20 board books to your little ones.
Preschool
Preschool children love picture books, which are a good way to reinforce the concept that letters form words. Check out these 20 titles to read to your child today.
Elementary School
It's recommended that parents read to their children for at least 10 to 20 minutes every night, and that you let your children see you reading for pleasure, too. These 20 titles will give you a place to start when it comes to reading to primary students.
Middle School
By the time kids reach middle school they've usually decided that they either love reading or they hate it. However, there's a book out there for everyone! Check out these 20 books that touch on life lessons while still being enjoyable to read.
Chapter Books
Starting chapter books can be an exciting milestone for a young reader. Take a look at these chapter books and see which ones might spark the interest of your child.