10 Things to Think About Before Inviting Your Nanny to a Function as a Guest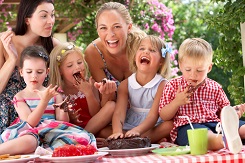 Your nanny is an integral part of your household, and of your child's life. Even if you're working hard to maintain and establish appropriate boundaries with your private, in-home childcare provider, it often seems like second nature to invite her to celebrations or family gatherings. For your nanny, however, the waters of off-the-clock interaction can be a bit murkier. Before inviting your nanny to your next holiday dinner or birthday party, there are some things you should consider, from her perspective.

1. Her Free Time is Precious – Your nanny cares for your children and sees to the running of your household on a daily basis, and probably works very long hours doing just that. While she may love your children and have a genuine fondness for you, she probably also counts free time as a very precious commodity. Before inviting your nanny to a family function, take her work load and the availability of her off-time into consideration. If she's working tons of overtime and you know that she's exhausted, it's wise to think twice about whether or not she'd welcome spending even more time away from home.
2. She May Feel Pressured to Attend – When nannies are invited to birthday parties and family celebrations, there's some degree of pressure to attend that naturally comes with the territory. After all, declining to attend your child's birthday party or kindergarten graduation could be seen as a slight or an insult, which would potentially affect her job security. When you extend the invitation, be sure that your nanny knows that there's no obligation to attend, nor will there be any negative repercussions from choosing not to do so.
3. She Will Inevitably End Up Working – You may be inviting your nanny as a guest, but she will still be in the company of the children that she spends the majority of her time caring for and, most likely, surrounded by adults she doesn't know very well. As a natural result of the situation, she will probably end up working in some capacity, and resenting the fact that she's doing so for free.
4. She Understands the Obligatory Invite – Just as your nanny may feel pressured to attend an event that she'd rather skip, she also understands that you may feel pressured to invite her, even if you'd much rather leave her off of the guest list. Because of this, she may decline based solely on that hunch.
5. The Social Implications – Before inviting your nanny to a family function where there will be a large number of relatives or friends, take into consideration that the only people she's likely to know are you and your children. While you're on hosting duty, that leaves your nanny with no one to interact with, other than the kids.
6. The Intimacy of the Gathering – Some celebrations are just so intimate that your nanny may feel awkward on principle alone. If you're celebrating Baby's first birthday with only your immediate family, she may feel out of place as the sole non-relative on the guest list.
7. Religious Differences – Holiday celebrations are a festive opportunity for revelry and fun, but most of them come with religious affiliations or connotations. Your nanny may not be of the same faith as you, which can make attending a religious event awkward and foreign to her.
8. The Importance of Maintaining Professional Boundaries – When nanny/employer relationships become too close, it's not always easy to operate on a professional level. As such, many nannies opt to keep their employer's at arm's length. What you perceive as aloofness may actually be a concerted effort to maintain those boundaries, which means that she's invested in her position and wants to preserve the relationship that governs it.
9. The Strength of Your Relationship – Some nanny/employer relationships are conducted from a respectful distance, while others become quite close. If you're not particularly close to your nanny, invitations to private, family events can seem a bit awkward.
10. Kids' Ability to Understand that Nanny Isn't Working – You and your nanny understand that she's spending time with the family in a casual, non-professional capacity, but small children don't always have the capacity to understand the implications. If you have very young children, it's important to realize that they can easily turn a relaxed gathering into a work environment for your nanny, something she'd almost certainly rather avoid when she's off the clock.

While your nanny may feel qualms about attending any family function as a guest for these reasons, she may also be eager to attend and free of any doubts. Every nanny is different, just as every nanny/employer relationship is different. If you truly want your nanny to attend a special celebration and are concerned about how receptive she would be to the invitation, the only way you'll be able to determine her feelings on the subject is to discuss the matter. Be sure that you're fostering a calm, judgment-free zone where your nanny is welcome to express her feelings without fear of the repercussions, and listen to what she has to say. You'll be able to work out an arrangement that works for your nanny and your family in no time, and cut out any future confusion regarding milestones and special events.