10 Things to Consider Before Your Parent Teacher Conference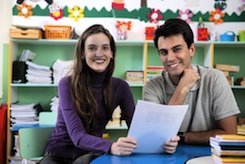 Parent teacher conferences provide parents with the opportunity to gain valuable insights about their child's study habits, academic performance, and behavior at school. In many cases, your child's teacher will be privy to information that even you aren't aware of, simply because your child spends the bulk of her day with the teacher. Preparing for a parent teacher conference isn't always a high priority for busy parents, and many assume that the evening is little more than a school-mandated formality. These ten tips can help you get the most out of the annual meeting with your child's teacher so that you can better help her achieve her goals.
Talk to Your Child in Advance – When she realizes that a parent teacher conference is approaching, your child may give you a more accurate picture of her academic situation. Hiding certain aspects of her life at school seems simple to a child when she realizes that you're not there to watch her, but understanding that you'll be speaking with her teacher can give her a new perspective. If there are any problems that she's been concealing, you may be able to get pertinent information about them from your child before you're blindsided with them at a conference.
Prepare a List of Questions – In order to get the most out of the limited amount of time you're allotted with your child's teacher, you'll need to have an idea of what subjects you want to discuss beforehand. Preparing a list of questions is an effective way of providing yourself with reminders about talking points, but it's wise to forgo non-essential questions in order to hear what the teacher has to say if time is running short.
Consider Her Behavior at Home – While some children behave very differently at home than they do at school, you're almost certain to have a basic idea of your child's behavior based upon how she acts when she's around you. If you know that she has a tendency to be unruly or that she struggles with paying attention, then you shouldn't be upset to hear that same information from her teacher.
Share Important Information – If your child is being bullied, is dealing with the aftermath of a parental divorce, or has other difficulties in her personal life, your parent teacher conference may be the only opportunity that you have to share that information with her teacher. While it can be uncomfortable to disclose such things to a relative stranger, it's important to keep the person responsible for educating your child in the loop about things that could affect your child's classroom performance.
Be Open and Receptive – Every parent likes to believe that their child is an absolute angel all of the time, but this is very rarely the case. Getting an accurate idea of your child's performance and behavior will require you to hear things that you may not want to, but it's essential that you keep an open mind and do your best not to be offended.
Include Your Child's Other Parent – It can be challenging to include an ex-spouse, especially if things are still tense between you, but for the sake of your child it's important that you do your best to set any differences aside so that both of you can take an active role in her education.
Focus On Your Child – Questions about school policies that can be answered with a glance at the handbook or a call to the administrative office might not be worth the time you'll waste on them if you approach them at a parent teacher conference. Remember that your appointment is likely to be quite short, so you should keep the focus of your questions on your child and her needs.
Take Notes – Carrying a notepad and pen with you to a parent teacher conference is wise because there's a strong chance that you'll be receiving quite a bit of information in a relatively short time. Jotting down important points for future consideration can help you remember them.
Take the Teacher's Advice to Heart – If the teacher offers you some insight or advice regarding your child, you should accept it as gracefully as possible. It can be difficult to accept information about your own child from someone that you don't know, but it can also help you determine the areas that your child needs assistance with the most.
Discuss the Meeting with Your Child – While a kindergartener might not have much interest in the happenings at a parent teacher conference, an older child is likely to be on pins and needles until she hears how things went. Discussing the meeting with your child in an honest but gentle way can help her understand that she needs to work on some things, and that you're willing to help her do so.
Establishing a working relationship with your child's teacher at the conference and maintaining that partnership throughout the year is one of the most effective ways to stay informed about what's happening at school and how your child is reacting to it. A teacher who knows that you're interested in playing an active role in your child's education will make a greater effort to help you stay informed, so leave her with your email address or another method of contacting you and encourage her to use it if the need arises.