10 Super Coupon Tips for Grocery Shopping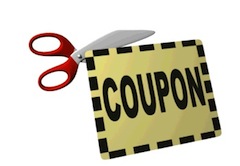 Are you throwing money away? If you are not taking advantage of coupons, you may be tossing away savings that could be applied towards your next grocery bill. Everyone wants to save money, but many people just don't get around to clipping coupons. By clipping coupons ahead of time for items you normally shop for, you should be able to have a stack of coupons ready to use when the time is right. The following tips will give you tips on how to use these coupons.
Match coupons with items already on sale. Look through your weekly flyer and find items on sale. Match the coupons you have with these sale items to further reduce your final bill.
Combine deals. Some stores allow customers to redeem both store and manufacturer's coupons together. Another way to combine deals is to find items that offer a rebate, and then apply a coupon for double savings.
Look online for coupons. With the decline of printed newspapers, the coupon section is not as large as it once was. However, the Internet provides plenty of websites that offer great deals.
Be open to a different brand. Shoppers have brand loyalty and will always buy the same brands.  Consider a different brand if you can use a valuable coupon instead.
Sign up for loyalty programs. Most grocery stores or drugstores have some type of loyalty program. Walgreens has Register Rewards, CVS has Extra Bucks, and most grocery stores offer a savings card.  Even though you do not typically buy groceries at a drugstore, they often have deals on some of the staples.
Compare prices without a coupon. Although it is a good idea to use coupons, always compare prices on different products with and without the coupon to determine the best brand to buy.  Another product may be cheaper without any coupon required.
Look for stores that offer double the coupons. This is a little more difficult to do, since not many stores offer double coupons. With a little research, you can find the stores where you can redeem coupons for double savings.
Stock up on non-perishable items. If you find valuable coupons for non-perishable items, this can save you a lot of money. Plus, you won't have to worry about running out of the product for awhile. Not everyone has the storage to take advantage of this, but if you can find room, stock up!
Sign up for coupon sites. Instead of spending hours looking for deals online, sign up for the site's newsletter. Do this for 2 or 3 sites and you will get great deals directly in your inbox. Often times, you will get a few insider deals and tips for signing up as well.
Shop at superstores. By shopping at large superstores, like WalMart and Target, you can take advantage of the coupon deals and save time with one-stop shopping. These stores are generally cheaper to begin with than most grocery stores.
Although the average person does not have the time to strategically plan a grocery trip or participate in extreme couponing, these simple tips can help you take advantage of coupon savings the simple way.