10 Reasons to Introduce Your Nanny to Extended Family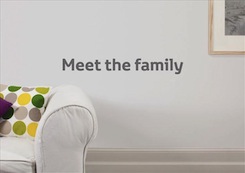 Whether your nanny lives in or outside of your home, there are several factors to consider when establishing boundaries. Boundaries are important to creating and maintaining a healthy nanny and family relationship. For some families, boundaries may include keeping their nanny separate from family functions and outings. This boundary, however, may not be the healthiest of options. Here are10 reasons why:
Because She's Almost Part of the Family – Nanny/employer relationships tend to work best when the nanny is treated more as a part of the family and less like a hired hand. You trust your nanny to care for the most precious members of your immediate family; shouldn't she be trusted to spend time with the extended part?
Because She Spends the Bulk of Her Time Separated From Her Own Family – By living and working in your home, which can potentially be a great distance from her own family, your nanny will spend significantly more time with the your family than she does her own. By allowing her to be included during family gatherings and functions she can still feel as if she's part of a family unit, rather than isolated in her room during the party.
To Assist with Childcare at Family Functions – More often than not, a professional nanny will be more than happy to help with childcare at large family gatherings, even taking on temporary charges among the children of extended family members. If this is the case, it's appropriate to pay her for her services. Giving a small token of appreciation, such as an extra day of paid vacation or a small bonus can also be an appropriate gesture.
For Emergency Contact Purposes – In the unfortunate event of an emergency, your nanny is likely to feel more comfortable contacting a member of your extended family that you've specified her to contact if she's actually met them beforehand. Emergencies requiring such contact are almost always stressful enough by themselves; the added pressure of contacting a perfect stranger can be difficult for even an experienced nanny to handle.
Because She Lives In Your Home – Nannies that live in your home should meet any members of your family that are likely to drop by, in order to ensure that they're familiar enough to know actual family members from strangers posing as such for nefarious reasons.
Because She Doesn't Live In Your Home – If your nanny lives out and reports to work each day, it's a good idea for any extended family members that might drop by to know who she is in order to prevent alarm if they're in the area and decide to drop in unannounced.
She Just Moved To the Area – Nannies that are new to your city aren't likely to know many people outside of your household, especially if she works long hours and doesn't leave often on her nights off. By introducing her to the members of your extended family at gatherings and events you might be able to help her meet people and make friends outside of the confines of your home.
You Expect to Have Overnight Family Guests – Making arrangements to board your live-in nanny elsewhere during a visit from out-of-town family members is likely to be both complicated and awkward; instead of going to great lengths to keep her separated from your family, it might be better to just go ahead and introduce her.
You Have a Very Tightly-Knit Family – Close families tend to spend a lot of time together, which could prove to be isolating for your nanny if she's always forbidden to interact with the members of your tightly-knit clan.
Because They Live in Your Neighborhood – When family members live nearby they tend to come by often; instead of making a large-scale production of shooing your nanny away to her quarters anytime someone drops by, it might be better to introduce her, even briefly.
While it's usually better to allow your nanny to meet the people who are closest to you and your family, that doesn't necessarily mean that you're forced to include her in every interaction. A brief, polite introduction is almost always sufficient, allowing your nanny to continue working with the children or pursuing her own interests if she's enjoying a day off.