10 Quick and Easy Lunches to Pack on Camp Days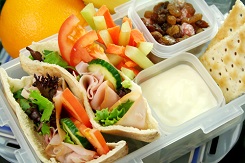 Summer time means camp time, and as kids scamper off to have a blast at day camp, parents scramble to try and come up with a packed lunch that is both healthy and tasty while still being quick and easy. Many kids groan when they find the same peanut butter and jelly sandwich in their lunch bags day after day. If, like most parents, you are scratching your head about what to pack for your child's camp day, here are 10 ideas that you will find simple and your kids will find satisfying.
Pitas –

Food is just more enticing to kids when it comes in these fun pockets. Fill a pita with low sodium cold cuts and cheese, or even with just veggies and dressing. Try to use whole grain pitas for optimal nutrition. Add a side of yogurt for calcium and Vitamin D.

Homemade Lunch Kits –

Kids love the idea of building their own lunch, but the lunch kits in stores are filled with sodium and are not very wallet-friendly. Instead of buying those, invest in a one-time purchase of a lunchbox-sized storage container with sections. Place crackers, hard cheese and cured meats to your child's tastes inside. Use mini muffin cups in the other sections and fill them with snacks like grapes and cucumber slices.

Bagels –

Top a whole grain bagel with light cream cheese or sunflower butter for a nutritious lunch. If you are watching portion sizes, use a mini bagel rather than a full sized one. Pack some apple slices topped with lemon juice and cinnamon for a side.

Shredded BBQ Chicken Sandwiches –

Make BBQ chicken in your crockpot the night before camp for dinner by slow cooking chicken breast in barbecue sauce. When it is done, the chicken will be easily shredded. Take some of it and put it on a whole grain roll and top with a slice of cheddar for tomorrow's camp lunch. For a light side, pack some unsweetened applesauce.

Cream Cheese and Banana Sandwiches –

Slice your banana long ways twice. Spread cream cheese on whole grain bread, top with the banana and cover with another slice of bread. Pack some popcorn in a snack bag for dessert.

Pasta Salad

—Cook some penne or wagon wheels the night before camp and mix with Italian dressing, grape tomatoes, snap peas, and cubed mozzarella. Pack in a plastic storage container with a plastic fork. Include some dried fruit with nuts in a small snack bag or muffin cup liner for a protein packed side.

Fried Chicken –

Fried chicken is great served cold, especially on hot summer days. Make or buy some the night before camp and pack a piece in your child's lunch bag. For dessert, pack a little hummus with some whole grain pretzels for dipping.

Sandwich Sushi –

Cut the crusts off two soft bread slices and use a rolling pin to flatten them. You can fill the sandwich with almost anything, but you need to include something sticky like tuna salad, hummus or peanut butter along with favorite toppings to achieve the right consistency. Once the ingredients are on top, roll the bread. Slice it into sushi sized rolls. For fun, you can pack some chop sticks. It will look just like the sushi mom and dad eat, and the kids will love it. Carrots or celery sticks with some ranch dip work well as a side with this one.

Black Bean Roll Ups –

If your child likes some spice in his life, try this simple recipe. Put a can of black beans (drained and rinsed) in the food processor with cumin, garlic, oregano, olive oil and lemon juice. After processing, spread on a whole wheat tortilla and wrap it up. Add some banana chips for dessert.

Fruit Salad –

Combine grapes, balled watermelon, diced apples, chopped walnuts, lime juice and honey. For a side, pack some whole wheat crackers or a lightly buttered whole grain mini bagel.
When it comes to beverages, it's best to pack water for summer day camps. Sugary drinks will only dehydrate your kids and add empty calories to their diet. If your child is opposed to water, put a lemon wedge in the bottle to add some flavor. Since your kids will most likely be playing sports, swimming and running around, be sure to pack only high energy snacks, such as fruits and vegetables, granola bars and trail mixes rather than cookies or candy. This will keep kids fueled without weighing them down.