10 Easy Ways to Make a Hot Breakfast for Kids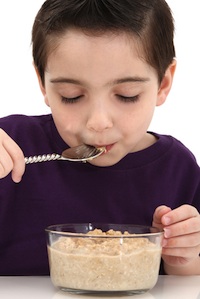 You've heard it time and again, breakfast is the most important meal of the day. There's something comforting about starting the morning with a satisfying, hot meal to get the day going. If you're looking to add some variety to your morning menu, try serving these kid-friendly hot meals for breakfast.
Hot cereal – This old stand-by is probably the first thing many parents think of when they think of a hot breakfast. There are so many brands and flavors of hot cereal to choose from that you are sure to find a few that your kids like. Oatmeal and Cream of Wheat are two popular choices. Hot cereal can be made in the microwave oven in just a few minutes or on the stove top if you have a little extra time.
French toast – This is another favorite with kids. For something different, try making it with cinnamon swirl bread or raisin bread. French toast 'sticks' can now be found in the freezer department and make for a very easy, fun breakfast food for the kids.
Pancakes – Most kids love pancakes, and with a little creativity, you can make faces and shapes that will add fun to breakfast. Also, adding extra ingredients like berries, bananas or chocolate chips will spice up this familiar favorite.
Bulls eyes – There are several names for this tasty breakfast dish. Cut a circle out of the center of a piece of bread and butter both sides. Heat a non-stick skillet and put the bread in it. Put an egg in the circle cut out. Turn once when the bread is golden brown.
Breakfast burritos – Easy to make and fun to eat; wrap scrambled eggs, bacon and some shredded cheese in a tortilla and heat in the microwave to melt the cheese. It's an effortless meal that kids will enjoy. For variety, you can use sausage links or add a little salsa to the wrap.
Sausage and egg biscuits – Use pre-cooked sausage patties and biscuits in a can to make delicious sausage and egg biscuits for the kids. Bake the biscuits according to package directions, scramble some eggs and heat the pre-cooked sausage. Put it all together and you have a warm and hearty breakfast sandwich.
Hot bagel sandwiches – Heat up a bagel and top with eggs and bacon or just use jelly or peanut butter. This is a handy breakfast idea for when you're on the go.
Omelets – These don't have to be difficult to make. Just mix eggs well, add a little milk or water, and pour in a non-stick pan. As the bottom side becomes well cooked, turn over the omelet. Add cheese and whatever other ingredients the kids like and fold in half. Serve immediately.
Breakfast pizza – Kids like the idea of pizza for breakfast and here's a fast and easy way to do it: put a little pizza sauce on an English muffin along with some pre-cooked sausage and cheese, then heat in the oven or toaster oven until the cheese melts.
Waffles – You can either make waffles from scratch, from a mix or just pop frozen waffles in the toaster. Top them off with warm syrup or try applesauce or a warm fruit sauce.
You don't have to feed your kids the same thing every morning in order for them to have a warm, satisfying breakfast. Try these 10 ideas to add a little variety to your morning menu.