10 Church Nursery Rules for Every Church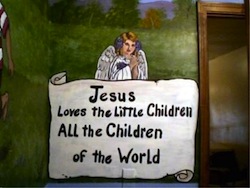 Parents who leave their children in the church nursery while they attend services need to feel that their children are safe in every way. Part of the way a church can assure parents of the safety of the church nursery is to post and enforce certain rules that are related to keeping all the children safe from harm.
Background checks – Unfortunately, this is a necessity in these days. Every volunteer or paid worker in the church nursery should first go through a thorough background check which includes the known sexual predator and child abuser lists.
Windows in the doors – Having windows installed in the doors to all the rooms in the nursery prevents anyone from being able to hide inappropriate behavior behind a closed door.
Three person rule – This is not just for nurseries, but all child related activities in the church. No adult should be alone with a child if at all possible.
Authorized pickup – Nursery workers should never release a child to an adult other than the parents without the parent's specific instructions to do so. This should include other relatives of the child, such as grandparents, older siblings or aunts and uncles.
Nursery personnel only – Anyone who is not a screened and approved nursery worker should not be allowed to stay in the nursery, this includes parents of children there. Parents who have not been screened, should either leave the child in the nursery or remove the child from the nursery.
Child to Adult ratio – A child to adult ratio should be established and enforced. With infants, there should be no more than two infants per adult nursery worker. The ratio can be higher with toddlers. Some nurseries enforce this by simply refusing to accept additional children once the capacity per worker has been met.
Toy sanitation – Small children automatically put everything in their mouths. Nursery toys need to be sanitized after they've been played with to help prevent the spread of disease.
No mouth to mouth sharing – Nursery workers need to be on the watch for the sharing of pacifiers, bottles and sippy cups among the children. This is just another way that children easily pass their germs from one to another.
No contagious diseases – Nursery workers and children who have contagious or infectious diseases should not be allowed in the nursery. Viral diseases like colds and flu are easily passed between individuals, but there are several other types of infectious diseases that have even more serious consequences if transferred from one person to another.
No children with fevers – If a child is running a fever, the child should not be kept in the nursery with other children. Fevers can be a symptom for many different things, contagious and otherwise, and it is always better to err on the side of caution.
Parents and volunteers may become frustrated at times with all the rules required for a safe nursery to be maintained. Carefully explaining the reasoning behind each of these rules and that the welfare of the children is at the base of each rule will help alleviate those frustrations.